Beirut and the Golden Sixties: A Manifesto of Fragility
Gropius Bau (DE) | La Biennale de Lyon (FR) | Mathaf Arab Museum of Modern Art (QA)
Exhibition with 230 artworks and 300 archival documents, utilising sustainable design practices by repurposing and reducing
The show 'Beirut and the Golden Sixties: A Manifesto of Fragility' revisited a dazzling yet disconcerting chapter in Beirut's modern history encompassing the period between the late 1950s and the late 1970s. For this exhibition we were asked to assist the curators in arranging 230 artworks by 34 artists and more than 300 archival documents from nearly 40 collections.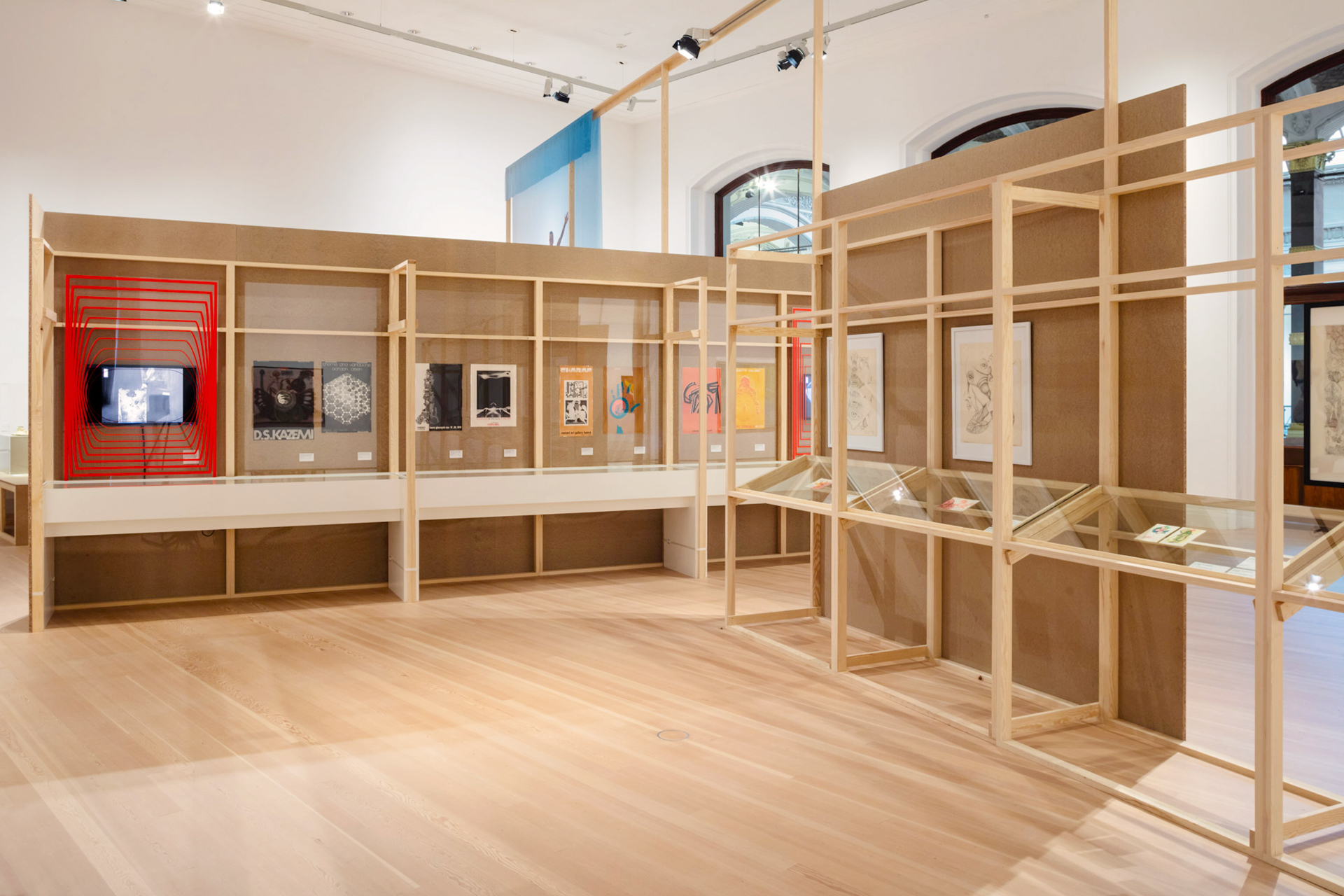 To create a more dynamic and captivating experience for visitors, we arranged the exhibition architecture at an angle to the square architecture of the Gropius Bau. To provide visitors with a comprehensive and immersive experience, we layered large-scale prints of historic photographs with artworks and ephemera. This approach allowed for a deeper exploration of the times portrayed, offering a more holistic view of the subject matter.

To place a special emphasis on sustainability, we made a conscious effort to use display cases that were repurposed from previous exhibitions and new structures were built as open structures made from timber, that are re-usable after the show. We designed display elements that are lightweight and can be easily disassembled and packed, making it possible to move the exhibition to new locations. As a result, the exhibition has already been successfully adapted for the Leon Biennale in France in 2022 and Mathaf Arab Museum of Modern Art in Doha (Qatar) in spring 2023.

Location:
Gropius Bau, Berlin (DE) | La Biennale de Lyon (FR) | Mathaf Arab Museum of Modern Art, Doha (QA)

Year
: 2022-23

Client:
Gropius Bau, La Biennale de Lyon, Mathaf Arab Museum of Modern Art

Curators:
Sam Bardaouil & Till Fellrath

Team:
Andreas Lechthaler, Leendert de Vos, Sebastian Koepf, Alcina Lo, Elvira Grob

Collaborators:
Jonas Vogler, Gropius Bau team, Biennale de Lyon team, Mathaf team

Image credits:
ALA/Klaud, Luca Girardini, Gropius Bau, Sam Bardaouil

Links:
berlinerfestspiele.de
/
labiennaledelyon.com
/
mathaf.org