Soho Photography Quarter
City of Westminster, London (UK)
A holistic re-interpretation of the streets surrounding The Photographers' Gallery forming a new vibrant public space and cultural hub for all


With the creation of the new
Soho Photography Quarter
we have enabled the transformation of a series of neglected delivery streets off Oxford Street into a vibrant, accessible and inclusive public space, which revolves around a free public outdoor art programme curated by
The Photographers' Gallery
.
Over the course of five years we have worked with Westminster City Council,
The Photographers' Gallery
and numerous stakeholders to establish a vision for the area that creates new public spaces for pedestrians that allow for art to be shown in the public realm.
The scheme builds on the distinct character and edginess of the area. Pedestrians were given priority by creating a shared space, stopping a rat run and changing delivery arrangements, thus creating safe and accessible walking routes between Oxford Street and Soho. Sustainably sourced and robust porphyry paving complements the existing brick facades. Where possible we looked for ways to incorporate tree and shrub planting to soften the spaces. Carefully considered wayfinding, bespoke seating and atmospheric lighting create an exciting and welcoming new city quarter that feels safe and welcoming.
The design of the streetscape and its street furniture was intentionally kept minimal to create a characterful, but versatile space that could extend the gallery's exhibition programme beyond its walls. With the installation of integrated infrastructure throughout the area, the public space was equipped to host curated outdoor exhibitions. The Photographers' Gallery is now responsible for managing a rotating art program that utilises the available infrastructure, which creates a unique and dynamic platform for contemporary photography.

The area now feels significantly safer, encouraging more people to use it as a convenient and engaging thoroughfare between Oxford Street and Soho. The result is an inviting public space that is not only aesthetically pleasing, but also fosters a sense of safety and community.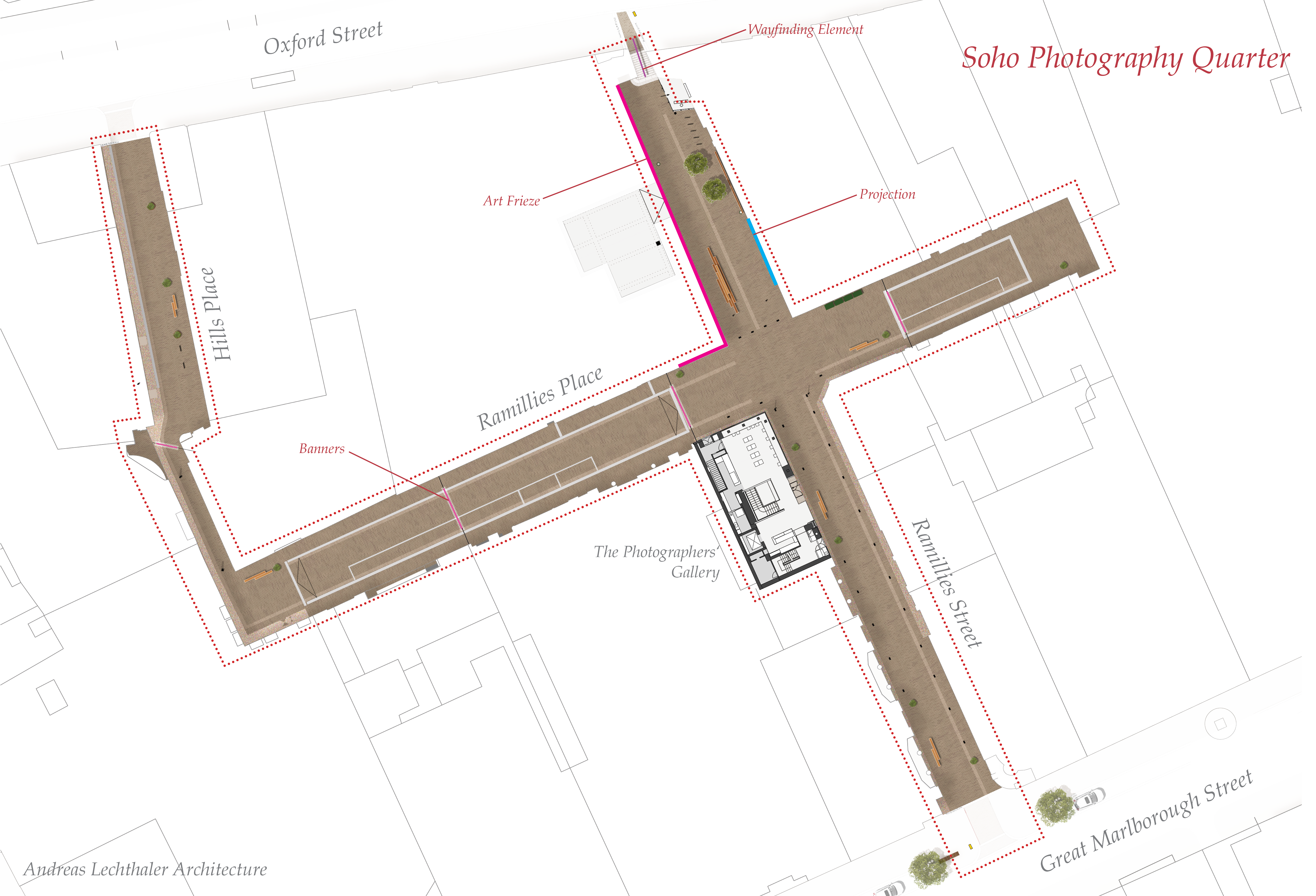 Location:
City of Westminster,
London (UK)

Year:
2018-2023

Client:
Westminster City Council and The Photographers' Gallery

Collaborators:
Field&Lawn, Murphy-Carey Joint Venture, New West End Company, Norman Rourke Pryme, Cynthia Grant, Publica, WestOne, Benjamin Stracker
Team: Sebastian Koepf, Andreas Lechthaler, Simone Goldate, Alcina Lo, Andrea Boito, Barbara Wagner-Rainbird, Natalie Savva, Benjamin Stracker
Image credits:
ALA/Klaud, Leo Cinicolo on behalf of Westminster City Council and MCJV, Luke Hayes/TPG. Artworks shown in images: Heather Agyepong, Jessica Bernard, Ollie Gapper, Mariam Sholaja, RAKE Collective, Wing Ka Ho Jimmi, Christian Thompson, Gideon Mendel.

Links:
thephotographersgallery.org.uk